Personalized Friendship Boat - Children's toys - Wooden toys - Wooden animals CU10406
Toys & Collectibles / Action Figures & Accessories / Action Figures
€24.24
€56.28
43% OFF
Promotion 1 Day Only
Main Features & Information
This wooden pull along boat holds a cute set of wooden animals design for little hands.
A gorgeous pull-along boat with natural wooden wheels. The Friend Ship is painted in soft contemporary colours and is made from sustainable rubberwood.
Climb aboard the Friend Ship, which is beautifully engraved with a name on the side of the ship for an extra special gift.
The Friend Ship comes with a full set of animals, including an elephant, giraffe, anteater, whale, fox, penguin and bear. Plus, a little boy and girl carrying a small mouse and a bird.
Perfect for encouraging creative play and great for playing with friends.
CE marked. Suitable for 3 years +
MADE FROM:
Sustainable rubberwood painted in pretty non toxic contemporary colours.
DIMENSIONS:
27.50 x 19.2 x 9.4 cm
TO ORDER:
Just let us know the name you would like us to engrave. Add to basket & check out. It's that simple!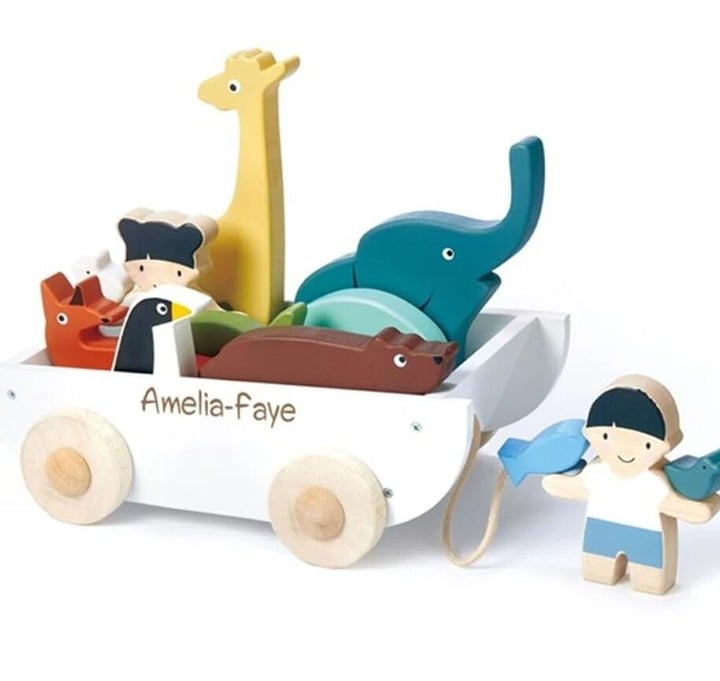 Personalized Friendship Boat - Children's toys - Wooden toys - Wooden animals CU10406